a typeface by Feòrag
Hergest is based on handwriting from the Red Book of Hergest (Llyfr Coch Hergest). This manuscript is the primary source of the Mabinogion, and more information about it can be found at Mary Jones' website. The manuscript has been digitised as part of the Oxford University Early Manuscripts Imaging Project, and is available online. The style is somewhere in-between half-uncial and blackletter, and this font takes advantage of Unicode with a large number of glyphs, including accented characters for eastern European languages, Irish and Welsh, plus a selection of characters for old European languages. The font also includes a long-s, and the usual ligatures.
The image below gives a sample of some of the characters included in the font: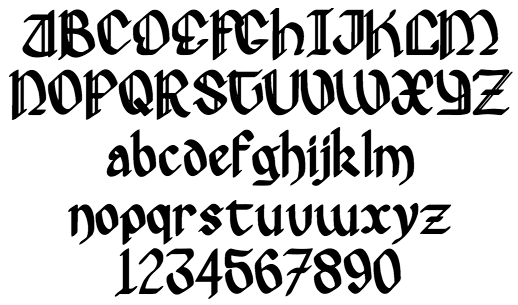 This work is licensed under a Creative Commons License.
Note that the license includes the provision Any of these conditions can be waived if you get permission from the copyright holder. You already have my permission to use this font for commercial purposes, such as in a magazine or advertising, and do not need to ask (though a copy of whatever you used it for would be nice). If you wish to redistribute this font commercially, including on a website with paid-for advertising, you must still get my permission to do so and you must make clear to others the license terms of this work.
Download Macintosh PostScript Type 1 version [Zip 168 Kb]
Download Macintosh TrueType version [Zip 132 Kb]
Download PC TrueType version [Zip 92 Kb]